Our Farm
Coxtie Green Farm is a family run, Pasture for Life certified smallholding based in Brentwood, Essex. Alongside Thomas Joseph Butchery, the farm produces 100% grass fed, free range Beef and Lamb, Pork reared to organic standards and free range Turkeys at Christmas. The butcher's shop on site sources meat from other farms aligned with the same ethos including grass fed, free range beef and lamb, free range pork and Herb Fed Poultry from Yorkshire. To find out more about the farm, please visit "our farm" and for the butchery head to "Thomas Joseph Butchery".
We hope you enjoy our site as much as we enjoyed putting it together, if there is anything that you want to ask, just shout :)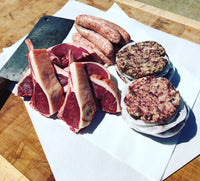 Thomas Joseph Butchery
Are you looking for single steaks, burgers, poultry or sausages rather than meat boxes? Head over to our Butchery website to see the full range of dry-aged, ethically sourced produce that we have available.
Thomas Joseph Butchery